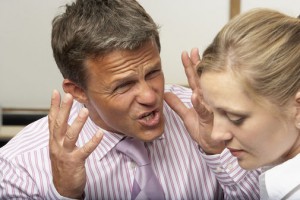 Do you need help dealing with your anger?  Is your anger getting out of control?
Aristotle the Greek Philosopher over 2000 years ago wrote in the Art of Rhetoric;
''Anybody can be angry, that is easy, but to be angry with the right person and to the right degree and for the right purpose and in the right way, that is not within everybody's power- that is not easy.''
He is not saying that you must never be angry is he?  It can be constructive in certain situations. Anger is a normal healthy emotion in response, for example, to a threat, insult or betrayal. He is saying however that you need to learn how to be angry in the right way; In an appropriate, healthy positive way. If you are finding it difficult to keep your anger under control then it's time to do something about it.
''Being angry isn't a problem in itself'' say the charity Mind. ''It's how you deal with it''
When something makes us angry our bodies release adrenaline to prepare your body to face the threat or to run away (fight or flight). This gives our body energy. When we release this energy through expressing our anger it usually is inappropriate and unconstructive. It can make a situation much worse not better.  Anger can harm the people in your life and it can harm you as well.
Anger and its problems
When you have unexpressed anger it can cause problems in your relationships. If you hold onto your anger but then let it go at inappropriate times or in ways that are not safe for those around you then it will impact on your health and your relationships.  Anger can lead to mental health issues such as depression, eating disorders and self –harm. It can also lead to high blood pressure as well as heart and digestive problems.
Anger Management
Dealing with your anger is both a short term and long term project.
To begin
If you learn to recognise what sets off or triggers your anger it can really help. Start by writing a diary about each time you feel angry. Reflect on how you felt and what happened to make you feel that way. You may begin to see patterns emerge. Think about what your warning signs are; be mindful of your body when you begin to feel angry; you tense up, your heart beats faster and your breathing gets quicker. Do you start to wave your arms about? You can train yourself to pick up on these signs. When they happen you can then at the very least take a moment to take a deep breath or if appropriate remove yourself from the situation to give yourself a chance to calm down.
Try being more assertive and express how you feel. Start your sentence with 'I feel angry with you because….' If you can talk about your anger in an assertive way then people will focus on you and why you are angry and not on your anger itself.
For the long term…
Once you have begun to recognise your triggers and you are able to calm yourself down you could look at ways of managing your anger in the long term.
Getting plenty of exercise, sleeping well and eating healthily will all help you in your journey towards controlling your anger. If you feel you need help then you could talk to your GP. You could also consider attending an anger management course which most probably will be a mix of one to one and group sessions.
Talking to a trained psychotherapist can help you unravel the reasons why you are feeling angry, and provide you with the strategies to deal with your anger appropriately. Here at Manchester Institute for Psychotherapy we have experienced counsellors and therapists who can help you with your anger management. Our emphasis is on friendliness and providing a safe and warm environment. You can phone the Institute on: 0161-862-9456 to book your initial assessment or contact us via email.